Komatiepoort
The Crocodile River reaches the end of its course when it becomes a tributary of the Komati River. At the confluence of the Komati and Crocodile Rivers is the town of Komatipoort. The word Komati comes from the Swazi word, "Nkhomati", which means "river of cows".Komatiepoort is situated near the Kruger National Park, on the Western slopes of the Lebombo Mountains. The Lebombo mountains form a natural barrier between South Africa and Mozambique.
Komatipoort, in the 1890's was hot and fevorous and Malaria was endemic.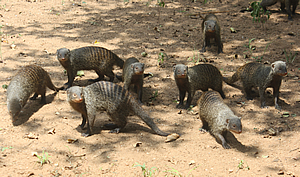 During the Anglo/Boer War, the town was used as a base by Lieutenant-Colonal Steinaecker and his "Forty Thieves". This group was later enlarged to become "Steinaecker's Horse". They were a bunch of mercenaries and bushwackers and were recruited by the British in order to fight Boer guerillas in the bushveld.
Today, Komatipoort is a quiet, sedate town. Malaria is under control, but it remains one of the hottest places in South Africa, with summer temperatures averaging about 33 degrees celcius, and balmy winter temperatures of around 26 degrees celcius.
Marloth Park

Marloth Park Conservancy is situated on the banks of the Crocodile River overlooking the Kruger National Park. What makes Marloth Park unique, is that residents are not permitted to erect fences around their property. The game in Marloth Park can roam freely around the houses and streets of the town.

From view sites - where many residents take their camping chairs and sundowners - lions and elephants are frequently seen at the Crocodile River, which is home to hippo and crocodiles. It is commonplace to witness many species of buck and antelope in Marloth Park, The chance of seeing buffalo, giraffe, warthog, baboons and monkeys around the cottages is excellent.

Marloth Park Conservancy has a variety of holiday accommodation, including a number of Self-catering bushveld houses, Safari Lodges, Backpackers and Guest Houses in Marloth Park Conservancy and surrounds.

With a variety of game, including Zebra, Kudu, warthogs, giraffe and many species of Antelope visiting your front door, Marloth Park offers the ideal break from the hustle and bustle of the city.